The Undergraduate Liberal Studies Program is a part of the University College at Rutgers-Camden, which enrolls approximately 700 students. Aimed specifically at non-traditional students, University College offers evening classes. If convenient, students may also enroll in day-time classes through the College of Arts and Sciences, which enrolls 2,300 students and is designed for more traditional day students.
Students enrolled in University College and the College of Liberal Arts benefit from the resources of a large university system while enjoying the advantages of a small liberal arts college. Rutgers-Camden offers small classes, individualized education, and close interaction with faculty and advisors. Most courses have fewer than 30 students and are taught by professors rather than graduate students as is common on large campuses. Liberal Studies students are part of a group of highly motivated students who are seeking professional advancement and personal fulfillment.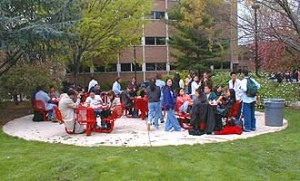 The colleges are fully accredited and consistently earn outstanding ratings. US News & World Report has ranked the College of Liberal Arts top among institutions in the Northeastern United States that do not grant a Ph.D. degree, and Money Magazine has ranked Rutgers-Camden as one of the "Best Buys in Higher Education." These high ratings reflect student satisfaction with programs, services, the quality of faculty, and low tuition costs.