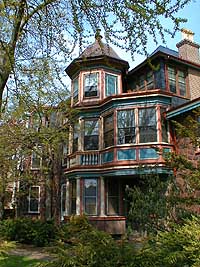 Begun in 1997, the Undergraduate Liberal Studies Program is primarily designed for students with associate degrees in applied sciences or technically oriented credits who wish to earn a Bachelor of Arts degree. Students pursue a coherent yet broadly individualized interdisciplinary major that leads to a Bachelor of Arts degree, usually after two years of full-time equivalent study at Rutgers University–Camden.
The Liberal Studies program meets the needs of qualified, motivated students who seek the expanded intellectual experience and improved career potential afforded by a bachelor's degree. The program can prepare students for advancement in their current field, possible career change, or graduate-level study.
After transferring credits from their associate's degree, students gain critical skills essential to the liberal arts and pursue a program that combines courses in humanities, social sciences and natural sciences (only offered on the Camden campus). Students often begin the program after accumulating valuable work experience and many pursue their education while continuing to work. Students find the Liberal Studies program flexible, challenging and highly satisfying.
Students in the program are expected develop these skills:
to read with a high level of comprehension
to think critically with a tolerance for ambiguity and recognition of a diversity of perspectives
to undertake research and to express the results in clear, well-organized writing
to appreciate the benefits of interdisciplinary approaches to issues